Upper Peninsula Michigan
Thistledowne B & B
The Upper Peninsula Michigan has unblemished forests, springs and waterfalls, empty beaches, a lighthouse, a fantastic bed and breakfast and several small towns complete with a casino.
Our first stop in exploring the U.P. was at Tahquamenon Falls. There are views of the upper and lower areas of the falls. The State parks are very convenient, clean and pleasant. The Falls are spectacular. There are also underground springs in another area of the U.P. At the springs, you can take a raft into the center of a pond and view all the way to the bottom (45') to see air bubbles and mud bubbling up from an underground spring. This is a very interesting site.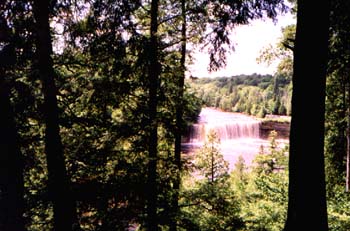 Thistledowne B & B (named after an endangered thistle on the property) is located in Gulliver MI. It is the only dwelling on a beautiful, peaceful cove of Lake Michigan. Overlooking the cove is the Seul Choix Lighthouse. The B & B is a fantastic places. It was especially built as a B and B and has only 3 very deluxe suites. Each suite has a double whirlpool, remote control fireplaces, and many other features. The entire building is trimmed inside with cherry wood. The owner is a perfectionist and gourmet cook. He claims he had to sell a Corvette sports car just to pay for the linens and towels for the B and B and when experience the luxury, you'll believe his story. This is the best place to relax and enjoy the lake, cool breezes, starry nights and "quality down time".